Our History
Design 3 Architecture was founded by Don Lightner in 1982. Prior to this, Don worked for Oxford Development Company, managing their in-house architecture department. Don negotiated a buyout of this department from Oxford and he opened his new company named Design 3, with the byline "Architecture, Interior Architecture, and Landscape Architecture."
Oxford Development Company then became his landlord, as well as his client, and continues to be one of Design 3 Architecture's major clients, and landlord, to the present day.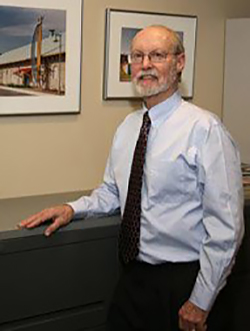 Don expanded our name in 1987 to Design 3 Architecture, PC, when the firm was incorporated. During his tenure as Managing Principal, Don guided D3A through steady growth for more than 25 years before retiring in 2011.
Having expanded from a sole-proprietorship, other registered architects in the firm became stockholders. Bill Snyder began working with Don in 1985, Mike Moyta in 1983, and Tony Scruppi joined the Design 3 Architecture team in 1997.
Continuing under the leadership of Bill, Mike and Tony- the remaining principals- Design 3 Architecture continues to service their long lasting client relationships while expanding D3A's client base and project accomplishments.
From initial projects as small as the Shoe Shine Stand in One Oxford Centre, to large developments like the 185,000 sq. ft. retail and apartment building at Pittsburgh's SouthSide Works, Design 3 Architecture has proven itself to be one of the Pittsburgh region's most successful and vibrant architectural firms.